Rollers are main supporting and leading components of the conveyor belt and they should maintain suitable load, seal and probability characteristics even at heaviest environmental conditions. Different rollers should be sectioned so that they will handle the overload caused by the belt stretching.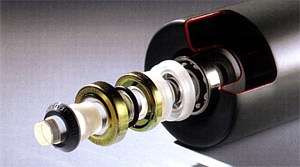 Rollers for medium duty belt conveyors

Bulk handling by belt conveyors is a method that is used in a wide variety of production processes, all with different requirements and characteristics. DugomRulli has designed and developed a range of solutions for the food industry, for concrete plants, for the burning of wastes etc. This long-term research leaded to the production of medium-duty rollers from 60 to 89 mm in diameter for belts of up to 1.200 mm in width. The range includes upper rollers, impact rollers and return rollers with rubber rings.

Rollers for heavy duty belt conveyors

The chemical, metallurgical, mining industries together with plants for ports require reliable, robust and durable systems that are suitable for extremely harsh conditions.

For these applications DugomRulli produces highly robust precision rollers that have an estimated life of up to 50.000 hours. The durability of the bearings is guaranteed by the use of special ERMEX C6 seals that offer the highest level of protection available on the market. Diameters up to 159 mm for belts of up to 2000 mm in width. The range also includes impact rollers and return rollers with rubber rings, plus garlands of 2-3-4-5 rollers, specially designed rollers for pipe conveyors and plastic rollers particularly suitable for the chemical and salt mining industries.